Skip Navigation
Website Accessibility
What's New at CQ 10/31/2023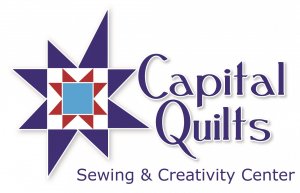 Dear Friends,
It's the last day of October. Please enjoy your time with candy-grabbers be they large or small.
To kick off November, we've installed some lovely Quilts of Valor in the gallery in honor of Veteran's Day. Do try to stop in and see them. We'll try to get a video up by next week.
This weekend, we are vending at our last show of the year -- the Quilting on the Line Guild's Autumn Ribbons Show in Jarrettsville, MD. It's still in the state, so stop by to see the quilts on display and say "Hi" to Lora and Kat.
Happy Sewing!
-Marianne
Products
We've gotten in some Presencia thread samplers for your sewing pleasure. There are six different collections -- Bright, Earth, Jewel, Monet, Pastel, and Neutral. Each collection contains six spools of 3-ply 50wt cotton thread.
From Cloud 9 Fabrics (organic cotton!), we have six delightful bolts to stimulate your creativity.
From Felicity Fabrics, we have this awesome new blender called Strands, available in a modern palette. Sew much fun!
We've restocked the "Lake" print from Kaufman's Gustav Klimt collection, and brought in some new prints, too! They are all accented (some heavily) with metallic gold.
Classes
Relax on Friday nights with fellow quilters for a virtual quilting bee. Settle into your favorite sewing space with your favorite Zoom-compatible technology for 2 hours of stitching and chatting. Everyone will have a chance to talk about what they've been working on and pose questions to the other quilters. Each month, a guest speaker shares her enthusiasm for an aspect of quilting – a designer, a technique, a hot topic -- with lots of inspiring ideas and photos. The next session will be November 3rd.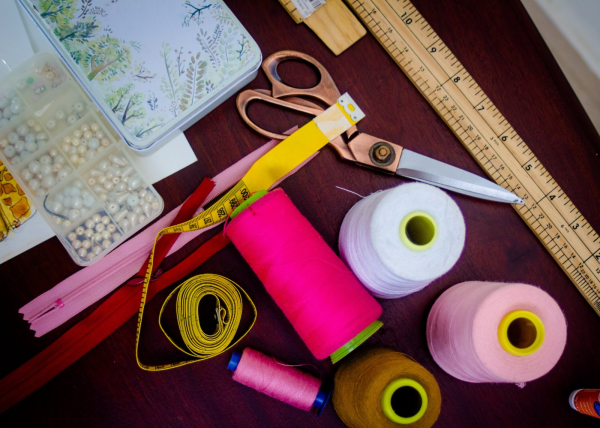 There are spaces in the Quilt of Valor workshop scheduled for Veteran's Day, November 11th. These quilts are tremendously important to the men and women who serve our country in the military. Help us support our vets by making a Quilt of Valor. The group will make one quilt. All fabric is provided. Just bring your sewing machine, supplies, and lots of energy!
Debra has fully embraced the rulers from Sew Kind of Wonderful, and is teaching Posh Penelope starting on November 16th.
Are you working on a handmade holiday? Come make a quilted half apron with deep pockets, custom sized to fit. Elizabeth shows you how on November 18th, with simple sewing and simple quilting, using your walking foot. Easy bias binding will be covered. These handy aprons will make one of a kind, hand-made gifts for yourself and friends. For confident beginners who have basic quilting knowledge.
Make cozy pants to lounge or sleep in! We'll complete these in class on November 19th, just in time for cooler weather and for you to sew up some great holiday gifts.
Geared towards confident beginner sewists, this class will teach you the basics of pattern fitting, pattern copying and construction of pants, with options for pockets and either a full elastic or combination elastic and twill tape waistband.
Join Linda to make a Laura Heine Peppermint Winter Collage Quilt! Starting on November 25th, Linda will help you make your very own winter collage masterpiece!
Choosing the right binding is critical to the final look of a quilt. After spending many, many hours on piecing and quilting a quilt, learn how to finish it off in a style that best frames its hard work and beauty. In this workshop on December 2nd, students will learn all about finishing off their quilts in grand style, from preparing the quilt for binding to deciding on the right binding style to tips for executing a clean binding with sharp corners. Both flanged binding and facing techniques will be demonstrated and practiced using placemats. You will leave with skills you can use on every quilt you make!
QUILT SHOW SCHEDULE
Quilting on the Line Quilt Show "Autumn Ribbons"
Jarrettsville Gardens

Jarrettsville Volunteer Fire Department

3825 Federal Hill Road

Jarrettsville, MD 21084

Saturday November 4, 2023 10:00am–5:00pm

Sunday November 5, 2023 10:00am–4:00pm
Mid-Atlantic Quilt Festival
Hampton Roads Convention Center
1610 Coliseum Drive
Hampton, VA 23666
Thursday, February 29, 2024 - March 3, 2024
Lancaster-Lebanon Quilt Show
Lebanon Valley Expo Center
80 Rocherty Rd. Lebanon, PA 17042
April 10-13, 2024
Northern Shenandoah Valley Quilt Show
Clarke County Parks and Recreation Center
225 Al Smith Circle, Berryville, Virginia, 22611
Friday, April 12, 2024 10 AM - Sunday, April 14, 4 PM
Faithful Circle Quilters Quilt Show
First Presbyterian Church of Howard County
9325 Presbyterian Circle, Columbia, MD 21045
Thursday, May 2, 2024 - Saturday, May 4, 2024
Pennsylvania National Quilt Extravaganza
Greater Philadelphia Expo Center
100 Station Avenue, Oaks, PA 19456
September 19-22, 2024
Original Sewing and Quilt Expo
Fredericksburg Expo & Conference Center
2371 Carl D. Silver Parkway
Fredericksburg, VA 22401
September 25-27, 2024
CQ Cares (Community Sewing Projects)

We have placemat kits available at the shop, please stop by to pick up one (or two). For those who want to sew from their stash, click on the picture for the beginner-friendly Charm Square Placemats pattern, or you can use your own pattern.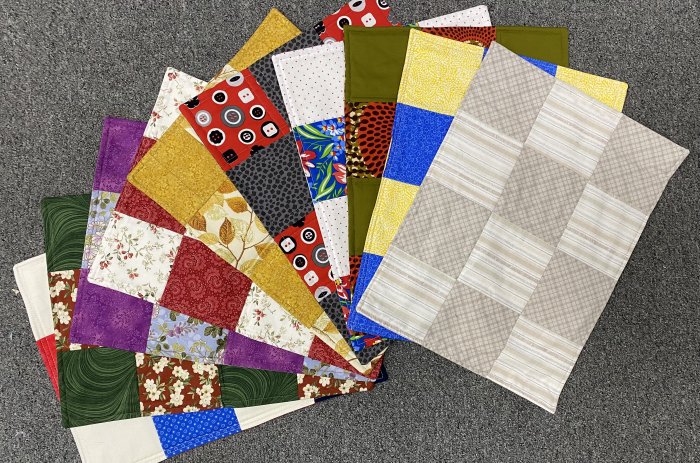 Please return all completed placemats to Capital Quilts.
Thank you for your continued support of the Capital Quilts Cares program.

As of right now, Ryan's Case for Smiles does not have a coordinator as of November 1, and will not collect and distribute pillowcases until they do. We're short on storage space, so if you make some, please either hang on to them or donate directly.
(And if you're looking for a volunteer gig, contact them!)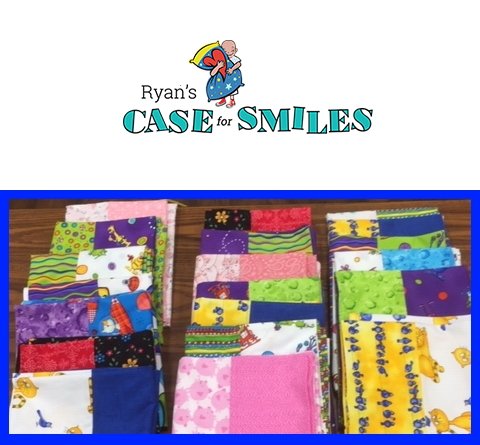 We have free small kennel quilts kits available. These little quilts are sent to shelters who take in pets displaced by natural disaster. To quilters, they are a great beginner project, a use for leftover fabric, and a place to practice free motion skills. To use your stash, visit www.kennelquilts.com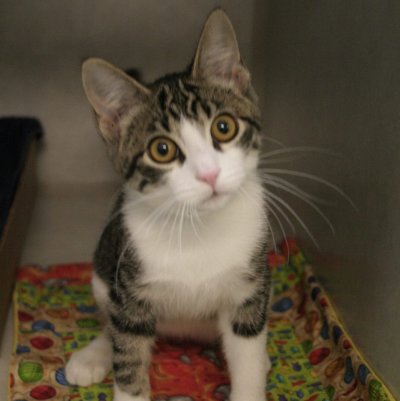 Save