Skip Navigation
Website Accessibility
What's New at CQ 11/7/2023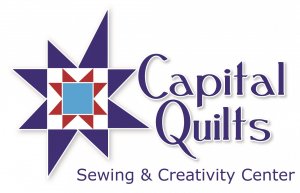 Dear Friends,
We are now soliciting classes for 2024! Let us know what classes, clubs, and workshops you'd like to see. Second Saturday (project TBA), Longarm, and Prostitcher Clubs are already on the calendar and ready for registrations.
As a reminder, Rod's Sharpening Service will be here next week. Bring those scissors, knives, and garden tools in now if you want them worked on! For everyone's safety, all items must be packaged/wrapped securely with rubber bands or packing tape securing the item in a towel, pillowcase, padded envelope, or box. Attach your name, address, phone number, and cash or check payable to Rod's Sharpening Service.
Fabric shears, pinking shears, household scissors: $7.00
Beauty salon shears: $25.00
Any type of knife: $7.00
Small garden tools (less than 12 inches): $7.00
Items should be dropped off at the shop no later than 5pm on Tuesday, November 14th. They'll be ready to pick up on Thursday the 16th.
Happy Sewing!
-Marianne
PS. If you belong to a guild and are having a show in 2024 that you would like us to vend at, please let us know as soon as possible!
Products
Kits, kits, and more kits! With our kits, you can make a quilt for just about anyone!
Father Christmas
Winter Garden Wreath
Winter Jewels
With the Tides
Big Hexie Love
Boots and Blooms
Urban Cabin
Armadillos
Birdsong
Alaskan artist Teresa Ascone, created these stunning, marble-like textural prints that overflow with COLOR! We think they look like liquid, and cannot wait to start integrating them into our quilts.
And, we have even MORE saturated color with Party Animal blenders and ombres.
Classes
We have openings in our Quilt of Valor workshop on both November 11 (Veteran's Day!) and also December 11. These quilts are tremendously important to the men and women who serve our country in the military. The group will make one quilt. All fabric is provided. Just bring your sewing machine, supplies, and lots of energy! Quilts will also be awarded to veterans during the November workshop. This is a great opportunity to show your appreciation in person!
(Please register for this free workshop, as space is limited.)
Are you working on a handmade holiday? Come make a quilted half apron with deep pockets, custom sized to fit. Elizabeth shows you how on November 18th, with simple sewing and simple quilting, using your walking foot. Easy bias binding will be covered. These handy aprons will make one of a kind, hand-made gifts for yourself and friends. For confident beginners who have basic quilting knowledge.
Join Linda Henson to make your own Peppermint Winter Collage! Linda has made quite a few Laura Heine collages, and will help you to personalize your own starting November 25th. Students should already have some experience with the Laura Heine collage technique.
On December 3rd, join Debra, who will teach you how to weave strips of fabric together to create a star ornament to hang on the tree, a wreath, the mantle, or other decorative endeavor! You can also use these stars in place of a bow on a gift. Once you know how, you'll want to make more.
QUILT SHOW SCHEDULE
Mid-Atlantic Quilt Festival
Hampton Roads Convention Center
1610 Coliseum Drive
Hampton, VA 23666
Thursday, February 29, 2024 - March 3, 2024
Lancaster-Lebanon Quilt Show
Lebanon Valley Expo Center
Lebanon, PA
April 10-13, 2024
Northern Shenandoah Valley Quilt Show
Clarke County Parks and Recreation Center
225 Al Smith Circle, Berryville, Virginia, 22611
Friday, April 12, 2024 10 AM - Sunday, April 14, 4 PM
Faithful Circle Quilters Quilt Show
First Presbyterian Church of Howard County
9325 Presbyterian Circle, Columbia, MD 21045
Thursday, May 2 - Saturday, May 4, 2024
Pennsylvania National Quilt Extravaganza
Greater Philadelphia Expo Center
100 Station Avenue, Oaks, PA 19456
September 19-22, 2024
Original Sewing and Quilt Expo
Fredericksburg Expo & Conference Center
2371 Carl D. Silver Parkway
Fredericksburg, VA 22401
September 25-27, 2024
CQ Cares (Community Sewing Projects)

We have placemat kits available at the shop, please stop by to pick up one (or two). For those who want to sew from their stash, click on the picture for the beginner-friendly Charm Square Placemats pattern, or you can use your own pattern.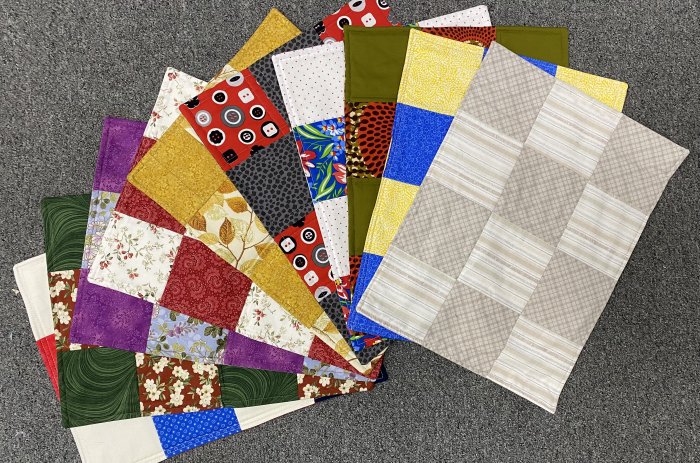 Please return all completed placemats to Capital Quilts.
Thank you for your continued support of the Capital Quilts Cares program.
We have free small kennel quilts kits available. These little quilts are sent to shelters who take in pets displaced by natural disaster. To quilters, they are a great beginner project, a use for leftover fabric, and a place to practice free motion skills. To use your stash, visit www.kennelquilts.com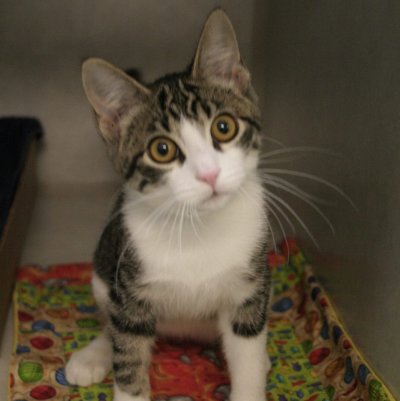 Save