Skip Navigation
Website Accessibility
What's New at CQ 11/14/2023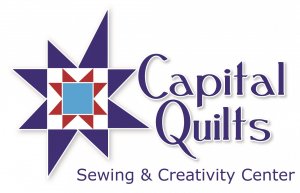 Dear Friends,
We've just finished hanging Elizabeth's Playful Portraits at the front of the shop. They are AMAZING! You must come in and see them. And, if you want to make your own, there is a class in January!
We are also working with Whatnot, a social media-based buying and selling platform. We already have some items listed, and this is the venue in which we will be selling retired shop models, among other things. Why not check it out? For those of you who are tech-savvy, there is an app to download on your phone. If you're less technically inclined, stop by the shop and see Kat, Marianne, or Laurie and we'll try to help you out.
Happy Sewing!
-Marianne
Products
From Benartex, we have Amanda Murphy's Botanica. In this modern interpretation of the wonders of nature, dynamic prints are beautifully balanced in both scale and value, and the sophisticated monochromatic palette of grey, black, and white has a wide appeal. Use this contemporary collection on its own or in conjunction with colorful basics. Amanda has designed a free pattern, too!
Get into every nook and cranny of your sewing machine with these handy, reusable cleaning tools from The Gypsy Quilter®. Silicone bristles are soft yet effective in cleaning your sewing machine, as well as your home appliances and electronics. The variety of tips in the package give you several options for reaching all of those tiny, hard-to-reach areas. To clean the brushes, simply wash in mild soapy water and air dry to remove the dust and lint from your cleaning tools.
Classes
Are you working on a handmade holiday? Come make a quilted half apron with deep pockets, custom sized to fit. Elizabeth shows you how on November 18th, with simple sewing and simple quilting, using your walking foot. Easy bias binding will be covered. These handy aprons will make one of a kind, hand-made gifts for yourself and friends. For confident beginners who have basic quilting knowledge.
Join Linda Henson to make your own Peppermint Winter Collage! Linda has made quite a few Laura Heine collages, and will help you to personalize your own starting November 25th. Students should already have some experience with the Laura Heine collage technique.
On December 3rd, join Debra, who will teach you how to weave strips of fabric together to create a star ornament to hang on the tree, a wreath, the mantle, or other decorative endeavor! You can also use these stars in place of a bow on a gift. Once you know how, you'll want to make more.
Join Cathy on December 6th to make a Holiday Star Table Runner! This table runner is the perfect choice for any holiday. Whether you choose Christmas prints, Hanukkah colors, or patriotic fabrics - the finished project will be stunning! Construction is simple - sew together two halves and finish by sewing the center seam so there are no inset points.
QUILT SHOW SCHEDULE
Mid-Atlantic Quilt Festival
Hampton Roads Convention Center
1610 Coliseum Drive
Hampton, VA 23666
Thursday, February 29, 2024 - March 3, 2024
Lancaster-Lebanon Quilt Show
Lebanon Valley Expo Center
Lebanon, PA
April 10-13, 2024
Northern Shenandoah Valley Quilt Show
Clarke County Parks and Recreation Center
225 Al Smith Circle, Berryville, Virginia, 22611
Friday, April 12, 2024 10 AM - Sunday, April 14, 4 PM
Faithful Circle Quilters Quilt Show
First Presbyterian Church of Howard County
9325 Presbyterian Circle, Columbia, MD 21045
Thursday, May 2 - Saturday, May 4, 2024
Pennsylvania National Quilt Extravaganza
Greater Philadelphia Expo Center
100 Station Avenue, Oaks, PA 19456
September 19-22, 2024
Original Sewing and Quilt Expo
Fredericksburg Expo & Conference Center
2371 Carl D. Silver Parkway
Fredericksburg, VA 22401
September 25-27, 2024
CQ Cares (Community Sewing Projects)

We have placemat kits available at the shop, please stop by to pick up one (or two). For those who want to sew from their stash, click on the picture for the beginner-friendly Charm Square Placemats pattern, or you can use your own pattern.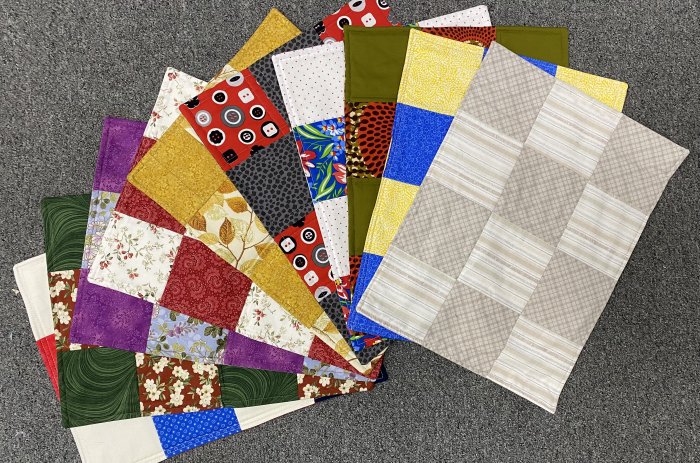 Please return all completed placemats to Capital Quilts.
Thank you for your continued support of the Capital Quilts Cares program.
We have free small kennel quilts kits available. These little quilts are sent to shelters who take in pets displaced by natural disaster. To quilters, they are a great beginner project, a use for leftover fabric, and a place to practice free motion skills. To use your stash, visit www.kennelquilts.com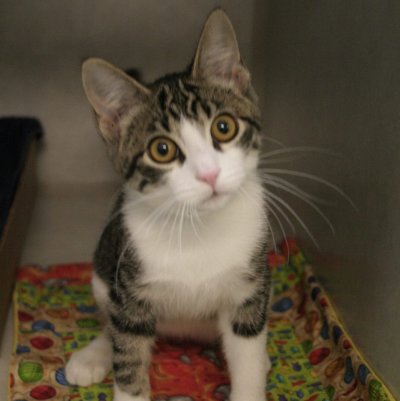 Save